Development and Support

integrations with CRM systems
We assist software companies in acquiring clients from the Bitrix24 marketplace.
We specialize in public integrations with well-known services,
as well as custom integrations for clients within the framework of individual
business automation projects.

Our focus is on enabling your business to operate more
efficiently and effectively by leveraging the power of CRM systems.

We understand the unique needs of B2B clients and are committed
to providing solutions that are tailored to meet these requirements.
Whether you're seeking to streamline your processes, increase productivity,
or enhance customer relationships, we're here to support you in achieving your business objectives.
We take care of your development
Assisting Your Development Team to Stay Focused
CRM integration is a niche area. CRM systems are constantly updated, adding new functionalities that require support. If you handle this using your own team, you'll use resources that could otherwise be directed towards the development of your own product.
However, there's no need for this - we handle all aspects of integration, you only need to provide your product's API. Our developers can create a working prototype of an integration with an unfamiliar system in just a couple of weeks. Within a few months, the integration will be complete, and its maintenance and development will begin.
Meanwhile, your team can continue to work calmly and stay focused on their tasks. This allows your business to retain its productivity and momentum, while we take care of the complex task of CRM integration.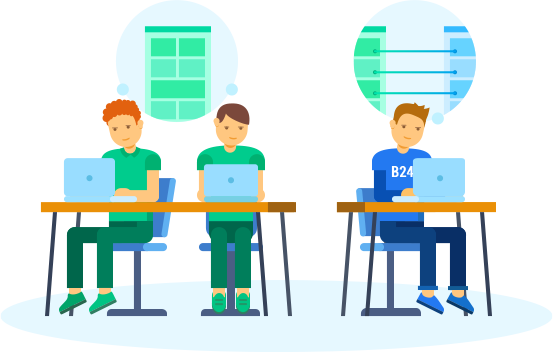 Launching Your Product's CRM Integration Within a Month
Launching a CRM Product Integration: A Project with Distinct Phases Launching a product's CRM integration is a distinct project with its own stages. We have been able to significantly reduce the costs of launching integrations by utilizing our proprietary platform, "c48," and a well-tuned development process. This allows us to offer you a more cost-effective solution without compromising on quality or efficiency. By leveraging our platform and established processes, we can help you integrate your product with a CRM system quickly, efficiently, and cost-effectively.
Here's what it looks like:
1. You share your needs with us
2. We collaboratively determine the goals of your project
3. We work through the necessary user scenarios
4. We agree on the scope of functionality to be developed and its feasibility within the APIs of the systems to be integrated
5. We develop the application on the c48 platform using the necessary modules
6. We connect the application to your CRM for installation information transfer
7. We launch the application into production
8. We carefully develop and support your application ¨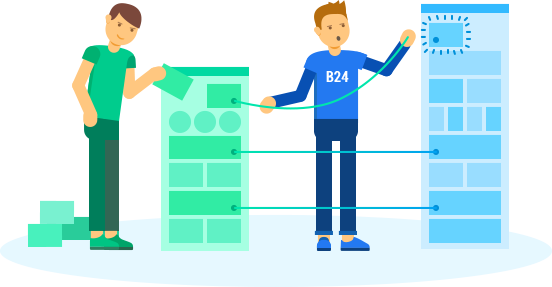 Expanding Functionality in Tandem with Your Product
Your product doesn't stand still, and neither do Bitrix24 and other CRM systems we work with. These systems are rapidly evolving, releasing new features regularly. We stay updated with the product development plans for the near future and test APIs starting from early alpha versions. Therefore, as soon as a new CRM functionality is made publicly available, we can support it at the level of our platform and add its support to your integration.
This proactive approach ensures that your integration remains up-to-date with the latest CRM capabilities, providing your business with a competitive edge and the tools it needs to continue to grow and succeed.
We believe it's crucial to allow users to benefit from new functionalities as soon as possible, rather than "freezing" development after the first version of the integration. This belief underscores our commitment to continuous improvement and adaptation. We strive to promptly deliver the latest features and enhancements to your users, ensuring that your CRM integration remains a dynamic and valuable tool for your business. ¨
Transferring Information About Clients Using the Integration to Your Accounting System
All Information About Clients' Interaction with the Integration Is Transferred to Your CRM or Any Other Accounting System We ensure that all data about how clients are using the integration is transferred into your CRM or any other accounting system you use. This allows you to have a clear understanding of how clients from this channel are interacting with your product. Our goal is to provide you with transparent and comprehensive data, which is essential for understanding your clients' needs and behavior, and for making informed business decisions.
Manageability
Your managers operate within standard processes that you have honed over time. We integrate these processes into the entrance of your sales funnel. This ensures that your existing workflows are enhanced, not disrupted, by the CRM integration.
Sales
You have a clear understanding of who is using your product and how they are using it. We transfer extensive information about the client's interaction with the integration: contact details of the client who installed the application, characteristics of the portal on which it operates.
Response
Your managers gain the ability to promptly respond to all events happening with a client working with the integration: data has stopped coming in, the application has been deleted, the volume of transmitted data has decreased or sharply increased.
Strategy
Our sales managers gain the ability to see how clients are using the product and can effectively work with prospective clients, thereby increasing sales of your product.
The most frequently asked questions from our clients
Is it possible to publish an application for Bitrix24 on our behalf and not mention you?

Yes, you can. This is called "white label" and we treat the client's secrets as if they were our own.




No one will know that we made the application for you. We keep our mouths shut.

And if we decide to make our integration with CRM in a year?

Yes, it can be done and you already have all the well-established processes and a loyal customer base in Bitrix24.
All user scenarios have been worked out and you know what needs to be done.

We will help your developers get acquainted with the features of working with Bitrix24 by educational webinars for your team.
We organize data migration and we will always be ready for you consult.

What about security and fault tolerance?

Ready-made and debugged algorithms for basic business operations.




For key procedures, logs are written that are available to your managers.




All import operations are designed taking into account the short-term unavailability of Bitrix24, we don't lose your data.




The entire platform is deployed on a failover cluster.




Average monthly availability over 99%




We have been working for 4 years and we are going to live forever

Is it possible to launch the integration on our hardware and develop it on our own?

For large customers, we can transfer the entire platform to their infrastructure for support and further development.
Pricing
Integration with
Google Spreadsheets
export leads
export deals
export contacts
flexible export schedule
technical support chat
$40 per month
Discounts for long-term contracts
Loyalty program for Bitrix24 CRM
Integrate with contacts
Integrate with deals
CRM-robots
BPM-activities
integration rest-api
technical support chat or email
$80 per month
Discounts for long-term contracts
custom integration with Bitrix24
build integration
Publishing an application on behalf of a customer
application source code
technical support chat or email
Payment methods and Legal information
JSC TBC Bank — GEL transfers
BANK CODE — TBCBGE 22
NAME OF BENEFICIARY — MAKSIM MESILOV
BEN'S ACCOUNT – GE21TB7984036010100033
be sure to indicate the purpose of the payment
Individual Entrepreneur
Firm Name: Individual Entrepreneur Maksim Mesilov
Identification Number: 336056163
Registration Number and Date: 19/04/2023
Registering Authority: LEPL National Agency of Public Registry
Legal Address: Georgia, Mtskheta district, Tskhvarichamia village
Have questions?
Contact us and we will answer all your questions